"How lavish is nature … ever changing, ever beautiful." – John Muir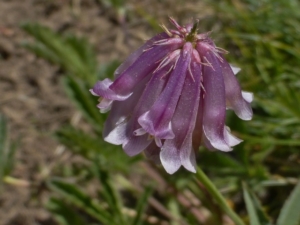 The moderate trail to Showers Lake is a 10.2 mile (out-and-back) hike through some of the best Sierra scenery in the Carson Pass area located south of Lake Tahoe.  To reach the trailhead for this hike, you will drive south on Hwy 89 from Myers toward Luther Pass.  When you reach Hwy 88, turn right and head towards Kirkwood and the Carson Pass.  The PCT/Meiss Meadows Trailhead is on the right side of Hwy 88, 0.2 miles west of the summit and the forest service information building and parking lot on the left.
The trail begins on the west side of the parking lot, and there is a five dollar parking fee.  The single-track trail heads west through open slopes with granite outcrops and scattered junipers, pines, and aspens.  A variety of wildflowers grow all along this trail.  There is a fairly steep, short climb up to a saddle where you will encounter a pond, and have sweeping views south of Round Top, Elephant Back, and other mountain vistas.
From the pond, you will hike north through a relatively flat, open sagebrush steppe west of Red Lake Peak.  The trail then descends into some beautiful mountain meadows with stream crossings of the Upper Truckee River.  Eventually you will encounter a junction of the Tahoe Rim Trail and the PCT.  Stay left on the PCT and you will shortly see views of Meiss Lake to your right.  Prior to reaching Showers Lake you will have another relatively steep climb through some amazing wildflower gardens and finally reach a crest above Showers Lake.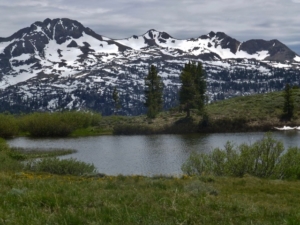 Descend down to the south side of the lake, and find a place to relax and enjoy the surrounding mountain scenery.  There is a faint trail on the northeast side of the lake that leads out to a granite outcrop where you can sit and have distant views of Lake Tahoe.
This is a trail that you will want to re-visit again and again.  The scenery is outstanding and the spring and early summer wildflower displays are outstanding.  Tom